Masterclass in London: Real Estate Tokenization Assets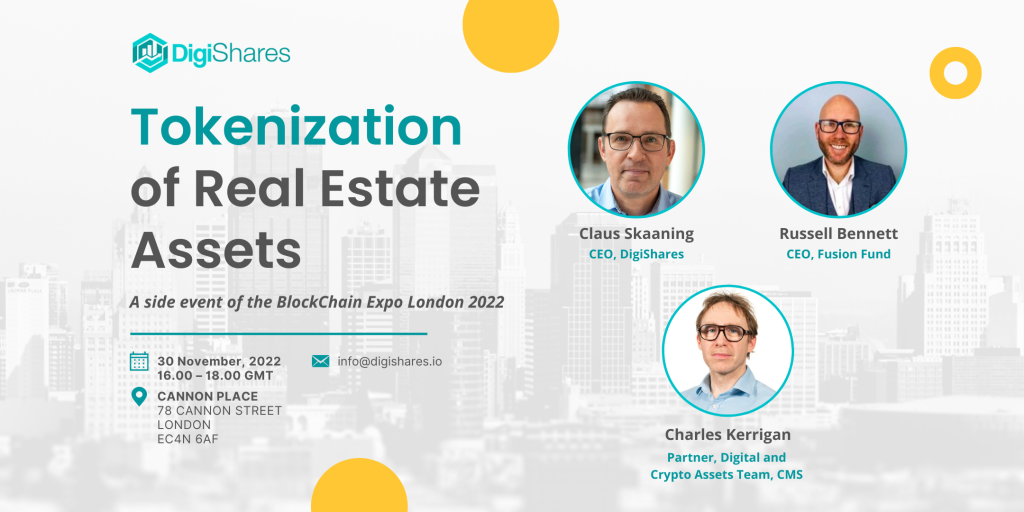 DigiShares' Masterclass is happening this 30th of November in London at Cannon Place! The masterclass is a side event for Blockchain Expo, a large technological conference and exhibition with 6000+ attendees that will take place on 1-2 Dec 2022 in London. We are one of the proud sponsors of this conference.
Why should you attend?
The masterclass is at beginner-level, suitable for those who are looking to learn about blockchain and tokenization, and how it can bring value to their Real Estate business.
✨ Uplevel your knowledge in tokenization, and learn how to become a home owner with blockchain. Strengthen and leverage the knowledge in the tokenization industry. Stay current with the latest news and regulatory updates.
✨ Learn from our experts. Gain insights into our experts' knowledge and real-life experience from use cases within the field to create competitive advantages.
✨ Get practical tips. Learn how to identify opportunities amid challenges and develop strategies to capitalize on them.
Bring home all the knowledge with the starting price from 53,14 US$
Podcast: Democratizing Digital Assets Through Tokenization with Claus Skaaning
As retail investors adopt blockchain as a tool to shake up the property market, blockchain becomes a tool to make an asset more liquid, reduce back office costs, and modernize the industry, says DigiShares CEO Claus Skaaning.
Listen to the full conversation between Claus Skaaning and BlockSolid podcast host Yael Tamar on this episode of BlockSolid to gain more insightful information on real estate tokenization.
UPCOMING EVENTS