September 22: The ESG of Tokenization
The topic for September's webinar is "The ESG of Tokenization"
We here at DigiShares believe Tokenization is a new technology that will become extremely important and very influential for the Real Estate market in the future. That's why it is important to discuss:
– How tokenization can make the world a better place?
– How can we as developers and users of tokenization technology make the industry more impactful and sustainable?
– What are the differences between environmental friendly blockchains and blockchains with heavy energy consumption?
– With tokenization can become a global tool in the creation of equal opportunity through the fractionalization and democratization of real estate asseets. Will we be able to help close the global wealth gap?
Join us for a live webinar to find out the answers!
Speakers include:
Claudia Cordes, University of Souther California
Peter Gaffney 🌴, Security Token Advisors 🌴
Noah Baalessanvu, Savannah Energy
Callum Wheeler, RenewaBlox
Phil R., Mapt. ODL – XMP
Claus Skaaning, DigiShares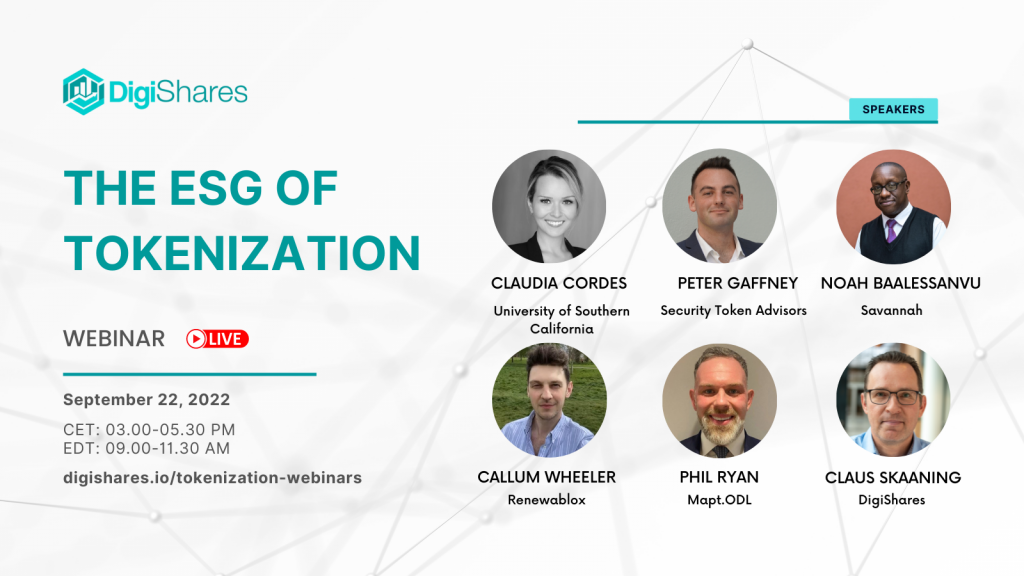 New: Research Report on DeFi and Real Estate
Many industries in this world have been transformed by technology. With the digital revolution in markets, industries are now more interconnected leading to increased flexibility and productivity. Although the real estate industry has been slow to adopt technology over the last decade, a significant transformation has occurred within the industry such as smart buildings, an online marketplace for buying and selling, crowdfunding, multiple listing services (MLS) through broker networks, and so on. Despite these technological advancements, liquidity and transaction efficiency remain major challenges in today's market. The real estate transaction process is characterized by complex networks of involvement from multiple stakeholders. Based on existing issues in the real estate sector, extensive research was conducted to determine how the real estate sector can use technology to make real estate transactions as smooth as possible.
The report investigated decentralized finance technology and tokenization opportunities, specifically how they might be used in commercial real estate transactions. The tokenization allows the DeFi Lending protocol to be used to fund commercial real estate. This level took a long time to complete but with the adoption of this technology, it can now be completed in minutes. The assets are stored on the blockchain, and smart contracts connect lenders and borrowers, enforce loan terms, and distribute interest, all without the involvement of a middleman. The study helps to improve understanding of decentralized finance in the context of the commercial real estate sector as well as potential benefits, drawbacks, and major areas of adoption.
San Jose Masterclass: 1 Week Left to Get the Early Bird Ticket
Time is ticking! You have just one week left to get your hands on tickets for our Masterclass in San Jose on October 4th at a reduced price.
Don't miss the opportunity to learn from our experts and expand your network with like-minded people.
Take a look again at our speakers:
✨ Laura Pamatian, Founder, HeightZero Real Estate
Laura has 20 years of experience in the domestic and international marketing and sales of luxury resort and vertical real estate development. Specializing in investment product, she has represented numerous 5-star, globally recognized brands, including; The Ritz Carlton, Mandarin Oriental, Auberge Resorts and Grand Hyatt.
✨ Sohail Hassan, Managing Director, MarketSpace Capital
He is an accomplished professional and founder/managing partner at MarketSpace Capital, a private equity multi-family real estate investment and development firm located in Houston, Texas with approximately $550MM of assets under management and another $1.4B currently under development.
✨ And from DigiShares team:
Claus Skaaning, CEO, DigiShares
Gabriel Sadoun, Head of US Business Development, DigiShares
Article: The Legal Guide to Real Estate on Blockchain – The Listing
The article is a part of the series outlines the legal aspects of tokenizing real estate on a blockchain, and is created by Volodymyr Havrylyuk-Yensen, Legal Counsel at DigiShares | Digital Securities & STO, and Emil Holtemann, Marketing Manager at RealEstate.Exchange.
The purpose of the series is to examine the legal implications of tokenizing real estate assets. You can access the short articles on our Medium site by clicking "Read the Full Article" below.
Article: Tokenisation is not new, but where does it lead to?
When asked about tokenisation, Clauss Skanning, CEO of Danish firm, DigiShares (specialising in tokenising real world assets), said: "Tokenization is in its essence about digitization, automation, fractionalization, and liquidity. Due to the digitization of assets, we can automate transactions to an unprecedented level and this in turn leads to a massive cost reduction that enables fractionalization. Finally, tokenization enables peer-to-peer trading of assets with no counterparty risk, effectively increasing the value of assets with 10-30% through removal of the illiquidity risk".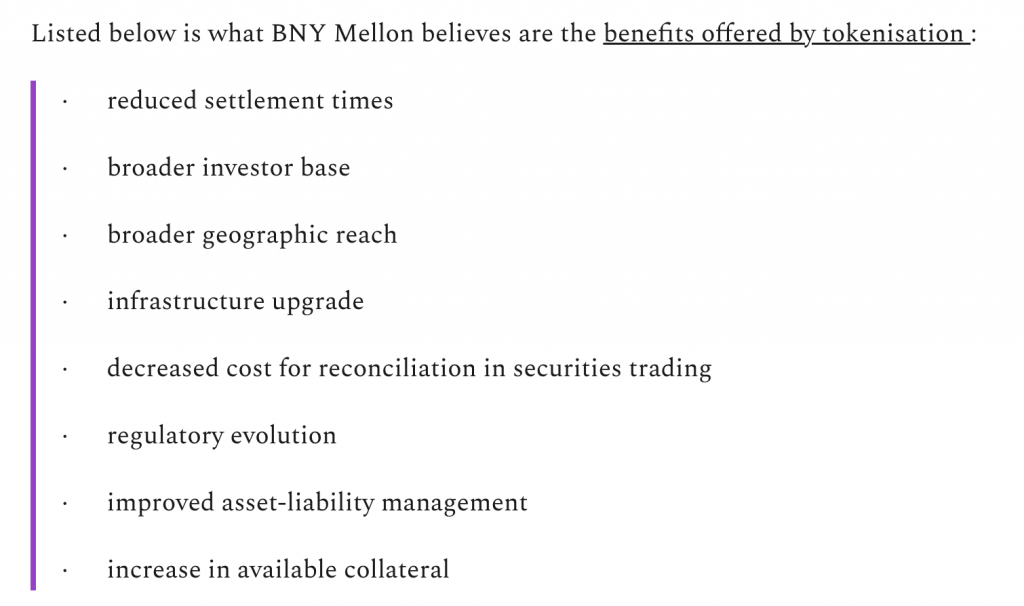 Recording: DigiShares' 5 minutes pitch and Q&A at Web3 Summit
DigiShares' 5 minutes pitch and Q&A on the Tokenization of Real Estate at Web3 Summit @ MIT 2022.
On June 30th, Web3 Imaginators, Explorers, and Pioneers came together at the MIT Media Lab for the 1st Web3 Summit to examine the possibilities of Web3 and define the foundation for its future. DigiShares was honored to be included amongst the Pioneers invited to present our work. Take a look at the recording here.
Recording: Decentralized Trading of Tokenized Assets
Thank you so much for a successful webinar!
Even if you didn't attend, we wanted to send you the webinar recording! See you in our next webinar: The ESG of Tokenization on September 22, 2022.
Event: Blueprint 2022
DigiShares is excited to be an official partner for Blueprint 2022, where the most impactful decision makers across the entire real estate and tech communities are going to convene, LIVE, September 12-14, 2022 at The MGM Grand in Las Vegas.
With over 50 sessions, some of the key topics being addressed are:
– The rise in single family rental, and other single family models
– The rise in single family rental, and other single family models
– The hybrid office, and the technology driving it
– Subtle (and not-so-subtle) shifts in multifamily management
– The collision of FinTech and PropTech
– The explosion in PropTech focused VC funds
– The best ways for enterprise firms to evaluate and adopt tech
– The new talent models for CVC
– The tech enabled future suburb
– Where the next billion-dollar ideas in proptech can be found
By purchasing a ticket to Blueprint, you will also gain free access to DigiShares' masterclass in Las Vegas. Looking forward to meet you there!
In collaboration with Blueprint 2022, DigiShares is hosting one of our Masterclasses in Las Vegas this September 12. To attend the masterclass, you will need to register for a Blueprint ticket through their website.
Date and Time:
Monday, September 12, 2022 | 1:00 PM – 5:00 PM PDT
Speakers include:
Claus Skaaning, CEO, DigiShares
Gabriel Sadoun, Head of Business Development in the US, DigiShares
Joshua Emison, Co-Founder and CEO, Sansbank
More speakers to be announced
UPCOMING EVENTS