Propel by MIPIM: Meet DigiShares at stand C01
Meet Gabriel Sadoun, DigiShares' Business Development Associate, at the 5th Propel by MIPIM – an the International Conference & Expo for Commercial Real Estate Professionals in the US and Canada this December 8-9 at iconic Javits Center, NYC.
DigiShares' stand at Propel by MIPIM will be C01!
Organized by the creators of MIPIM in the world's real estate capital, New York, and in partnership with MetaProp, Propel aims to drive better built environments by delivering the latest solutions and tools for planning, leasing, developing and investing in the properties and technologies of the future.
Are you interested in improving your brand as a developer?
Trust is something that is built through concrete actions. In this context, blockchain is a fundamental tool for improving transparency.
In collaboration with our white-label partner Bimount, we would like to request any real estate people among our readers to fill in the survey as it will allow us to strengthen our offering in the future and to determine the general interest for add-on modules able to generate more trust and thus strengthen your brand.
Your feedback will help our partner to develop a product that might benefit you. Thanks in advance, friend.
Click here to take the survey.
Fintech Tuesday hosted by Copenhagen Fintech
Join DigiShares and Mark Dencker, our Head of Blockchain and also the author of the book "Software is Feeding the World", this December 7 at Fintech Tuesday for an afternoon of some great researches, applications and minds within DeFi and the crypto space and explore its future potentials for the fintech sector.
Hosted by Copenhagen Fintech, Fintech Tuesday is where the combination between the knowledge of industry stakeholders and the newest research within the technical sciences happen. This Fintech Tuesday will focus on Decentralized Finance, popularly known as DeFi.
The Future of Tokenization – FBBS Replay

Watch John Dean Markunas (Moderator), Ryan Molecke, Gabriel Sadoun & Juan Alvarez as they examine 3 tokenization business models: Residential, Commercial, REIT – and determine the future of blockchain based fractional real estate investment at the Florida Bitcoin & Blockchain Summit last Novemeber 4-5.
Webinar Recording: Real Estate Tokenization & Decentralized Trading

Thank you everyone who joined us last November 17 for the Webinar Real Estate Tokenization & Decentralized Trading. But in case you missed it, you can now watch the Webinar here.
DigiShares' Webinar Series: Real Estate Tokenization in Practice will resume in January 2022 with 2 new topics: Global Regulations and Banking; more information on the upcoming webinars can be found here. We'll be sending out recordings of the webinar to all registrants so feel free to sign-up even if you can't attend.
Blockchain Bit Podcast: DigiShares on the Latest Episode

Check out the latest podcast episode from Blockchain Bit where our CEO and co-founder, Claus Skaaning, had a chat with Ana Paula Picasso about how the Nordic countries a little behind in the global tokenization ecosystem and the reasons behind it.
On the other hand, emerging economies have a more promising outlook for tokenized assets, with governments supporting asset tokenization with friendlier regulation.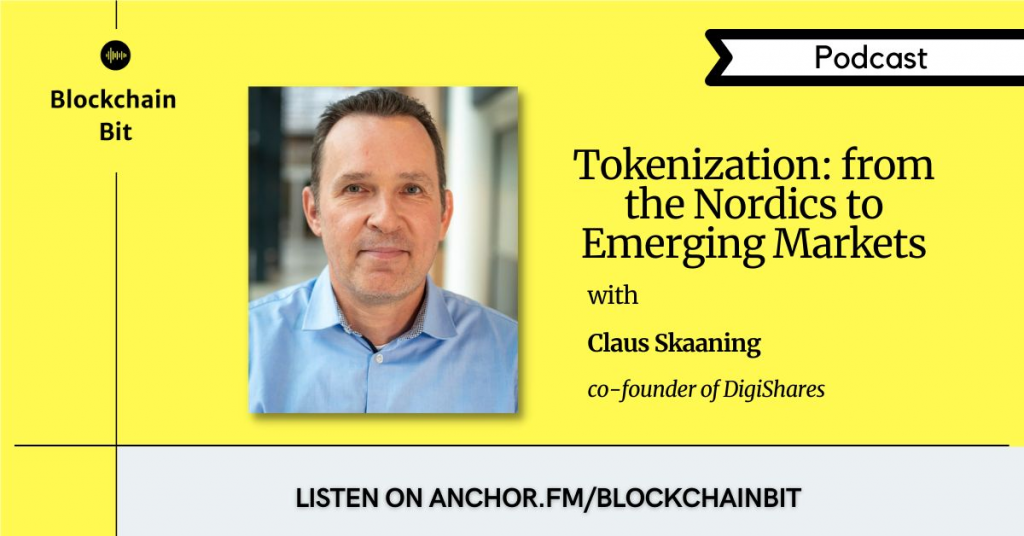 UPCOMING EVENTS