SAN JOSÉ, MAY 7-13 | VIENNA, MAY 31

Claus Skaaning, DigiShares' CEO will be in San José (USA) from May 7 to 13 and in Vienna (Austria) on May 31 to meet with investors and clients. If you are interested in meeting us, please reach out to [email protected].
Masterclass by DigiShares in San Jose, CA: Sign Up first and go to Blockchain Expo North America for free!
The Blockchain Expo North America in Santa Clara is the main event for the whole blockchain community. DigiShares, one of the proud sponsors for this event, invites you to attend our live masterclass on May 10th in San Jose. The masterclass will be dedicated to tokenization of real estate assets.
Masterclass by DigiShares in Vienna
If you are based in Europe, we are presenting our Masterclass on Tokenization of Real Estate Assets in Vienna on May 31, 2022.
In this Masterclass, DigiShares' CEO – Claus Skaaning – will explain how Tokenization is applied in the $3.7 trillion Real Estate Market and our Business Developer, Xavier Trilling will show some use cases of existing customers.
By attending the event, you will learn:
✅ How to increase the Liquidity of Real Estate Assets.
✅ How to modernize, digitize, and automate your business with Blockchain.
✅ Best practices from local clients who will share their experiences.
The places are limited, get your Early Bird tickets today!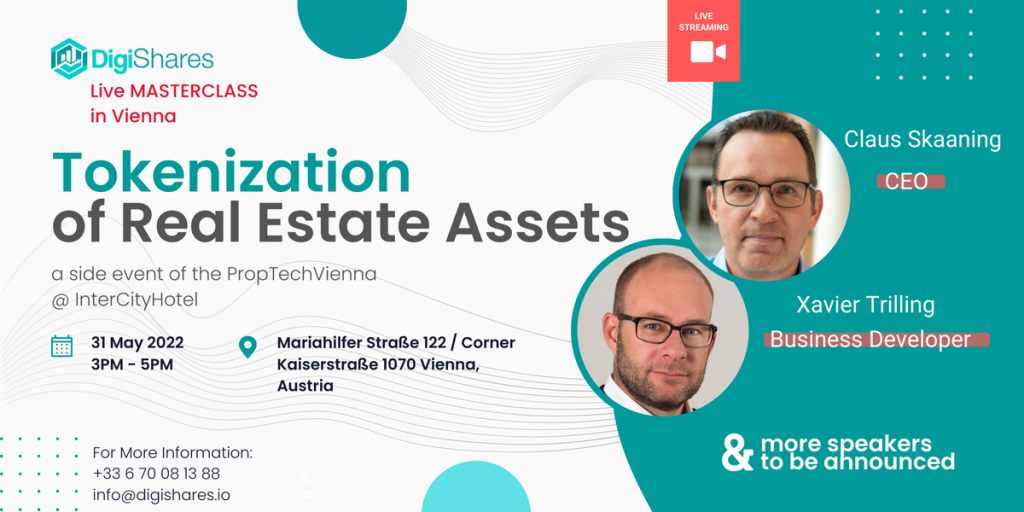 April 20: Real Estate Tokenization and Global Regulations Part 2
April 20: Real Estate Tokenization and Global Regulations Part 2
We are pleased to announce that we have partnered with The Tokenizer to bring you one of the most informative webinar on global tokenization regulations!
The Tokenizer is a leading news and data platform for the tokenization industry offering data-backed services in combination with media coverage of asset tokenization, security tokens and non-fungible tokens (NFT). Read more about Tokenizer here.
Global Regulations change all the time and are extremely critical in relation to tokenization. Some countries fully support tokenization (like the US), whereas others are in a grey zone and unregulated, and finally there are countries where tokenization is outright impossible for various reasons. DigiShares' next webinar is focused on regulations and we will again present the perspective from 5 countries where we see significant demand: India, France, South Africa, Australia and Denmark. You can now take a sneak peak at our upcoming program and speaker line-up here.
To make the webinar more fitting and accessible for India and Australia based viewers, we have modified the time of this webinar to start at 09.00 am CET | 12.30 pm IST | 17.00 AEST.
Too make sure you don't miss it, we recommend you to:
Add the Webinar to your Google Calendar
Join our Linkedin Event

Sign Up Here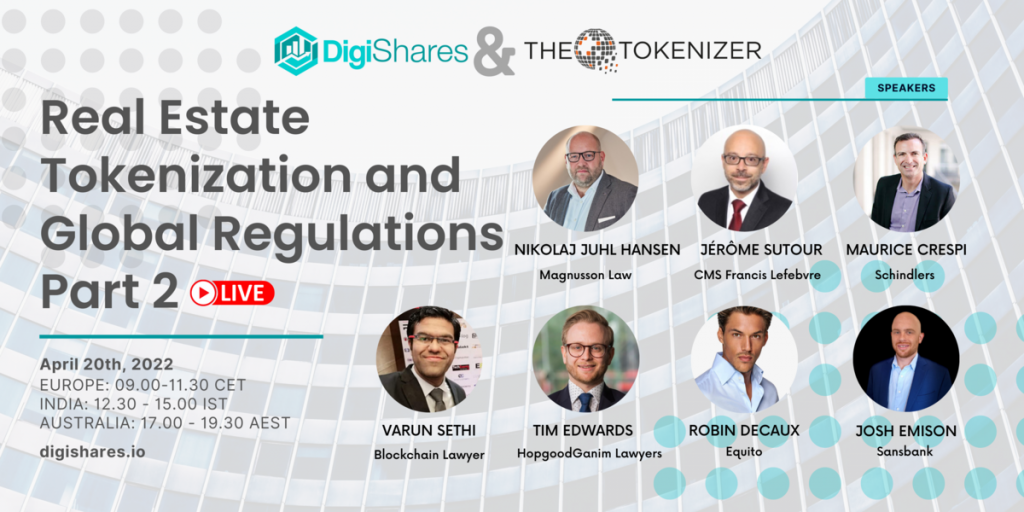 Hybrid Event by CMS: Liquidity and Blockchain, from Myth to Reality
Whatever the nature of the tokens (security, utility, NFT or others), they all rely on the promise of easier transferability thanks to the blockchain, the technology behind tokens.
Beyond the various protocols, smart contracts which detail the characteristics of the token and are embedded within the technology, are also important to understand when trading tokens.
In support of liquidity, inoperability of the various protocols is important and in the case that this inoperability does not exist, how can the tokens/smart contracts be negotiated? What types of trading venues exist to support the various scenerios and how are they set up to ensure trading can exist?
What venues need to be regulated and which do not?
The purpose of this conference is to review the various means to organise the liquidity of tokens, whether through platforms, exchanges or bulletin boards, and the challenges, but also the opportunities, offered by the current and future regulations on blockchain.
Please note: If you choose to register for the event concerned by the invitation, your data will be collected by CMS Francis Lefebvre Avocats as the data controller. The terms and conditions for the processing of your data by CMS Francis Lefebvre Avocats are described on the event registration form and in their privacy policy, which can be accessed via the registration form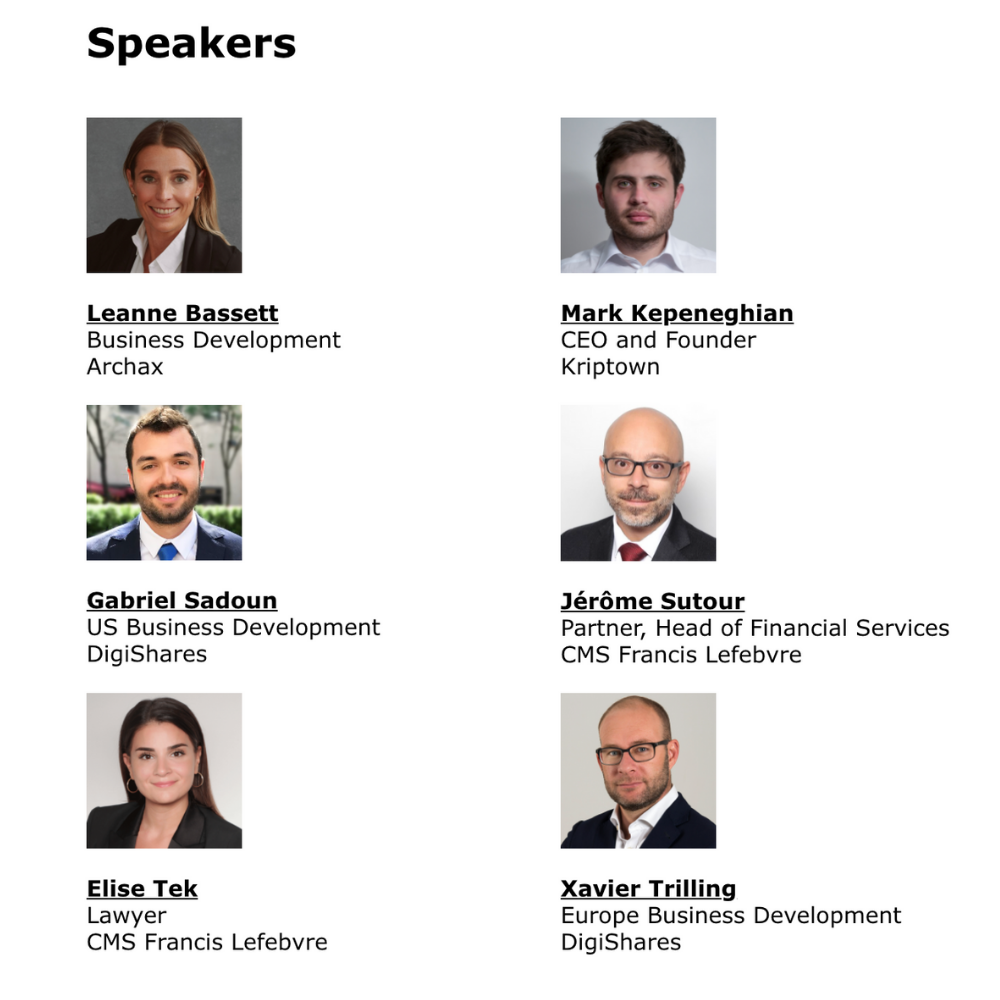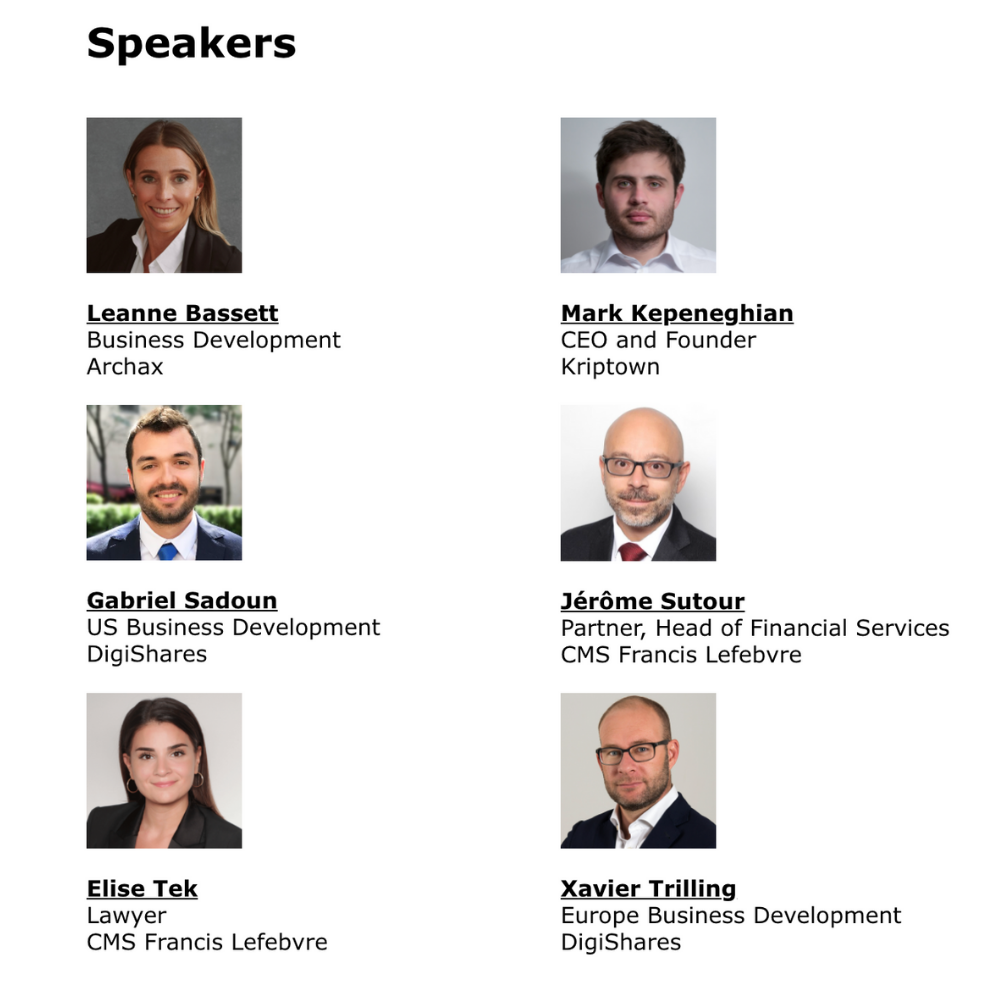 Recording: Tokenization, the next wave of mass adoption?
UPCOMING EVENTS