October 19: Tokenization of Debt – Webinar
We hope that you have your calendars marked, because we're only 1 week away from our October Webinar: Tokenization of Debt. This time we have prepared a busy program, along with a line-up of industry experts who will share their knowledge and experience on tokenization and why debt and bonds may be preferably to equity and shares for certain applications.
Speakers include:
Morne Olivier, New Business Development, BridgeDefi
Efri Argaman, CEO & Founder, OwnEZ Inc.
Swapnil Pawar, Founder, ASQI Advisors
Simone Domenico Casadei Bernardi, Managing Director, FinTech Legal Center
Maurice Crespi, Partner, Schindlers Attorneys
Axel von Goldbeck, Partner, MÖHRLE HAPP LUTHER
Bryony Widdup, Partner, DLA Piper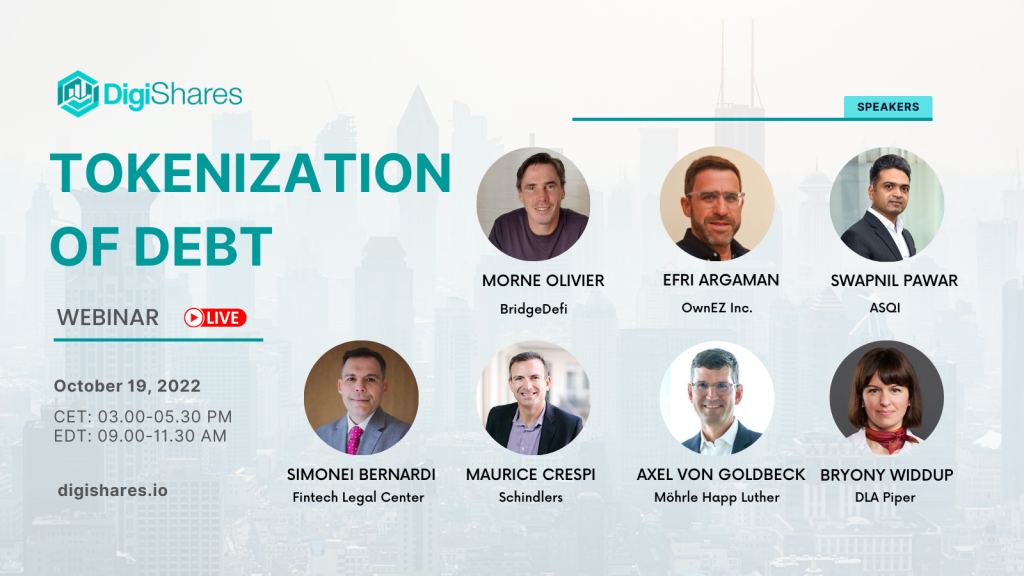 Masterclass in London: Real Estate Tokenization
DigiShares' Masterclass: Tokenization of Real Estate Assets is coming to London! You are invited to join us and hear real, actionable insights on the challenges, and regulation hurdles and take a glimpse into the future.
Our beginner-friendly masterclass will help participants:
– Strengthen and leverage the knowledge in the tokenization industry.
– Gain insights into our experts' knowledge and real-life experience within the field to create competitive advantages.
– Learn how to identify opportunities amid challenges and develop strategies to capitalize on them.
– Stay current with the latest news and regulatory updates.
Speakers:
Claus Skaaning, CEO, DigiShares
Charles Kerrigan, Partner – Digital and Crypto Assets Team, CMS
Russell Bennett, CEO, Fusion Fund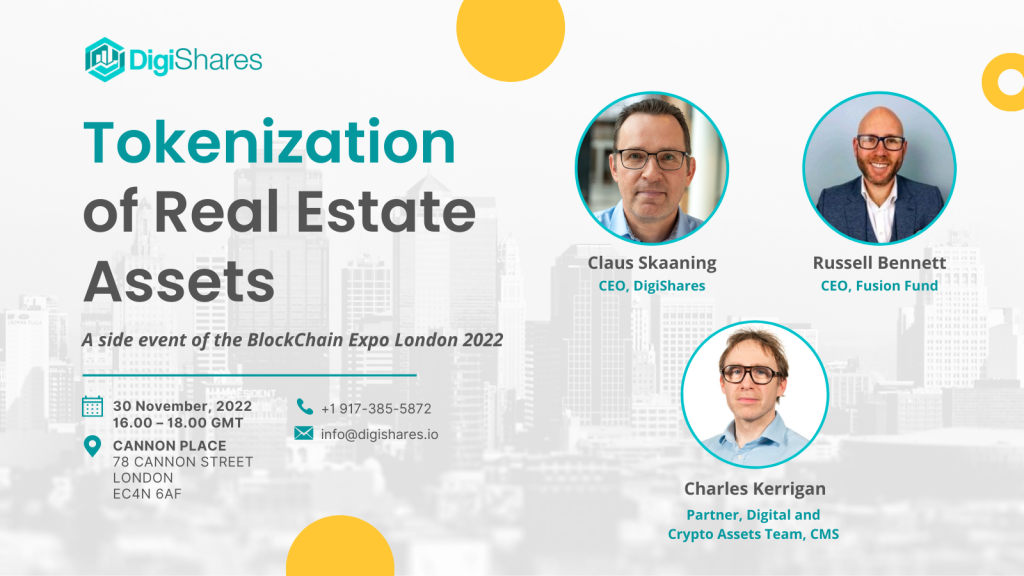 Meet DigiShares at Singapore Fintech Festival
DigiShares is excited to share that we will be present in Singapore for the first time! We will be having a stand within the Danish Pavillion at the 7th edition of the Singapore Fintech Festival (SFF) on 2 – 4 November 2022 at the Singapore EXPO. 

Every year, the Singapore Fintech Festival (SFF) brings together thousands of people from across the world, bringing forward ideas that shape the economy, and making impactful public and private sector connections. As the first in-person Festival since 2019, the week-long celebration is packed with curated, interactive sessions and networking opportunities. SFF is organized by the Monetary Authority of Singapore, Elevandi, and Constellar and in collaboration with the Association of Banks in Singapore.
Article: The Rise of Tokenization
"Tokenization has the power to revolutionize the financial landscape‒intrinsically changing how investments are managed, used and monetized. The process of tokenization facilitates the creation of a multitude of new financial products, allowing every person and organization in the world to diversify their portfolio of investments on a global scale, regardless of income or size."

© 2022 The Bank of New York Mellon Corporation
Webinar Recording: The ESG of Tokenizaton
Thank you so much for a successful webinar!
Even if you didn't attend, we wanted to send you the webinar recording! See you in our next webinar: Tokenization of Debt on October 19, 2022.
UPCOMING EVENTS