DigiShares White-Label Partner BRIK Token Series "$BRIKkoala": Official Launch Dates
A DigiShares white-label client, BRIKbc, is now ready to issue their first tokens.
The first BRIKbc Projects' Tokenised Real Estate Property BRIK Token Series, $BRIKkoala, is based in Brisbane, Australia (5km from CBD). A high-end luxury residential family home rented out to tenants indefinitely.
Brisbane has recently been named the 2032 Olympics City (which also has events on the Gold Coast which is 100km south of Brisbane and Sunshine Coast which is 100km north of Brisbane), and these are geographical areas of focus. Our BRIK Property Tokens Series' focuses on high end luxury residential family homes in Brisbane, Gold Coast and Sunshine Coast that are rented investments.
The BRIKkoala token series is made up of 40,000 Tokens. See this Ethereum Blockchain Scan showing the $BRIKkoala Token Series.
To access the $BRIKkoala Property Token Series, please go to BRIKbc Property Tokens Platform.
BRIKbc Property Tokens Platform has been built and maintained by DigiShares, one of the world's leading Property Tokenisation Blockchain Developers.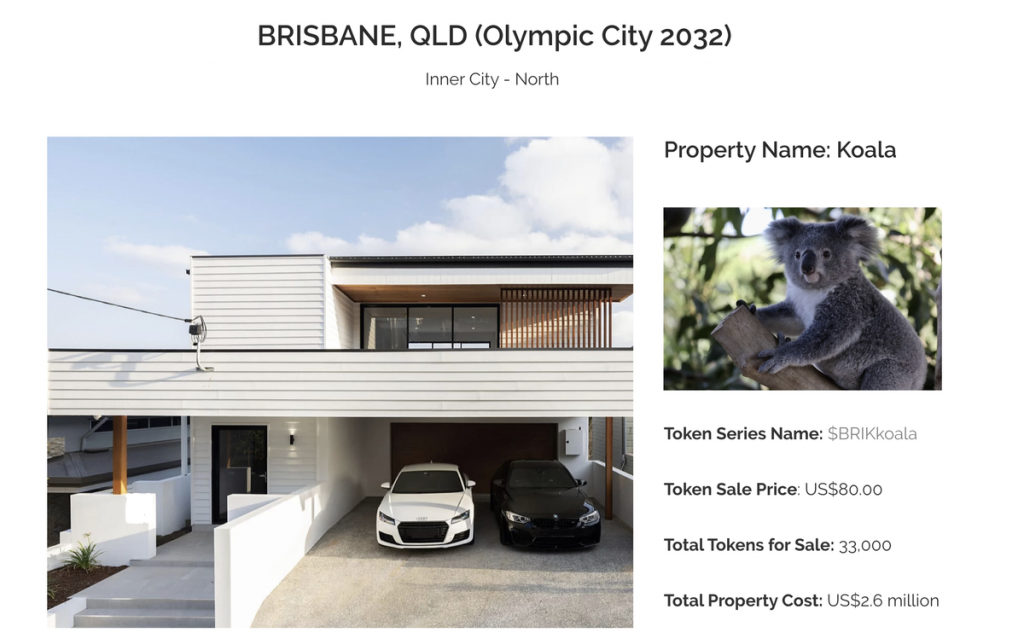 JANUARY 19, 2022: Real Estate Tokenization & Global Regulations
DigiShares is excited to announce that we are hosting a free Webinar: Real Estate Tokenization and Global Regulations on January 19 at 15:00 – 17:00 CET / 09:00 – 11:00 EDT
As one of the leading providers of white-label tokenization platforms for real assets, we recognize that the lack of regulatory guidance in Real Estate Tokenization can disincentivize participants from investing. That is why we have gathered the top industry speakers from all over the world to come and share their knowledge and expertise on Regulations to help you overcome this barrier.
ATTEND this Webinar to get insights about regulatory approaches and actionable practices that can be put in place. You are also very welcome to join our Linkedin Event to meet other attendees and get the latest news regarding to the webinar.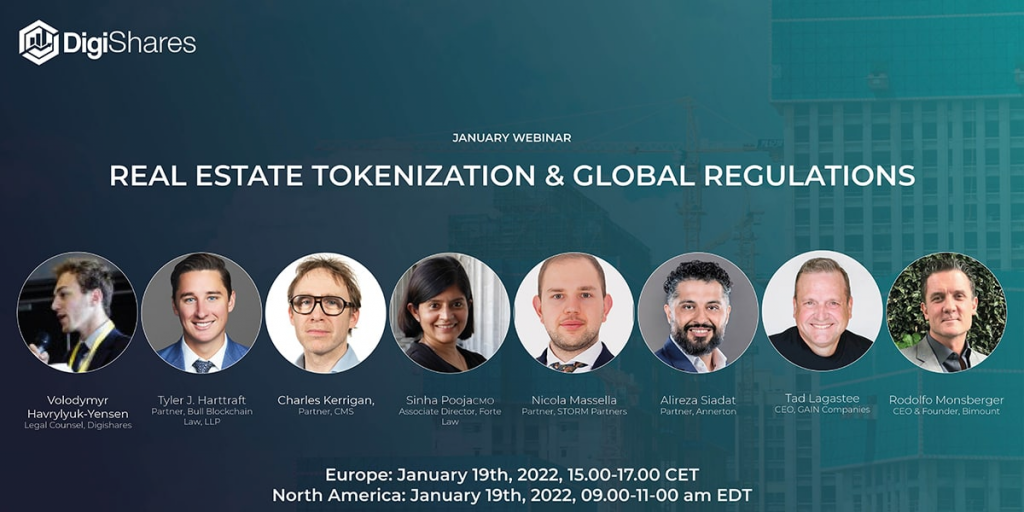 UPCOMING EVENTS