DUBAI, FEBRUARY 21-15

Gabriel Sadoun, DigiShares' Head of US Development will be in Dubai the week of Feb 21 to meet with investors and clients. If you are interested to meet us, please reach out to [email protected].
MARCH 16, 2022: Real Estate Tokenization, Liquidity & Secondary Markets
Liquidity is the most important part of the tokenization value proposition. It is generally accepted that an illiquid asset can become 20-30% more valuable by becoming liquid. For the first time, the world's top regulated security token exchanges will be together in the same webinar and participating in the same discussion panel.
Mark your calendar on March 16 for our next webinar: Real Estate Tokenization, Liquidity & Secondary Markets
In this webinar, we will:
✅ Hear the visions and perspectives of the top security token exchanges
✅ Get an overview of current and future liquidity providers
✅ Listen to practical use cases of Digital Assets in Real Estate Space
Confirmed speakers:
Alan Konevsky, Interim CEO & Chief Legal Office, tZERO Group, Inc.
Leanne Bassett, Director, Business Development, Archax
Darius Liu, CFA, CAIA, Co-Founder and Chief Strategy Officer, ADDX
Tokenise
Kristaps Cuders, Co-Founder & CEO, Coreestate
This is not to be missed by anyone in the Security Token Industry. Attend the webinar to learn how to achieve liquidity for security tokens representing real world assets.
Sign up today and share it with your friends and colleagues!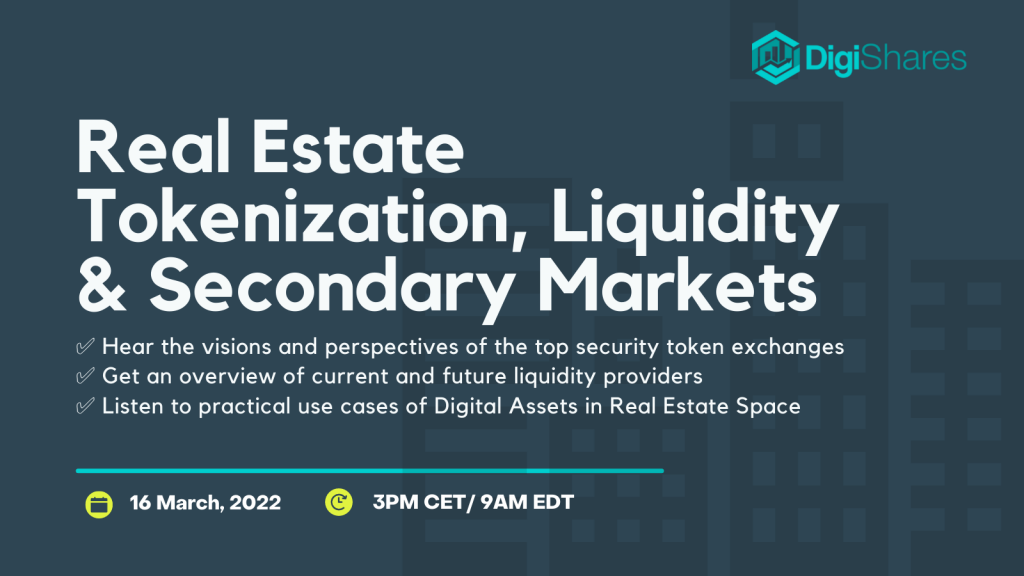 DigiShares Certified with International PropTech Innovation Label
DigiShares is delighted to be the first company in Denmark to get certified with International PropTech Innovation Label from PropTech Academy.
The property technology innovation evaluation method was developed in Switzerland and is the first process of its kind in the world. It was used in the creation of the International PropTech Standards. The methodology symbolizes innovation and invention. The evaluation method uses subjective criteria when assigning the score. It evaluates a range of data based on official and public company information – including business model, founding team, management team, service, and products.
The property technology innovation evaluation method does not solely encompass classic definitions of innovation and general market requirements. Instead, it involves a new methodology developed using specific definitions of Property technology sectors and factoring in aspects such as uniqueness, disruption, technology, and human capital.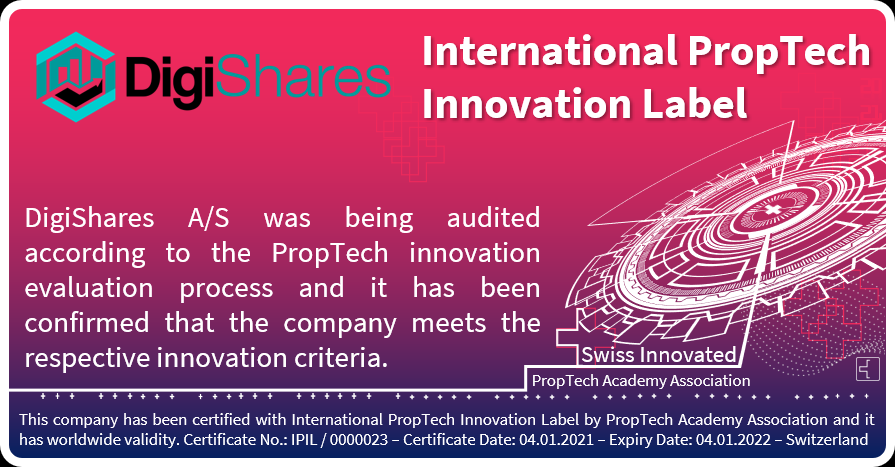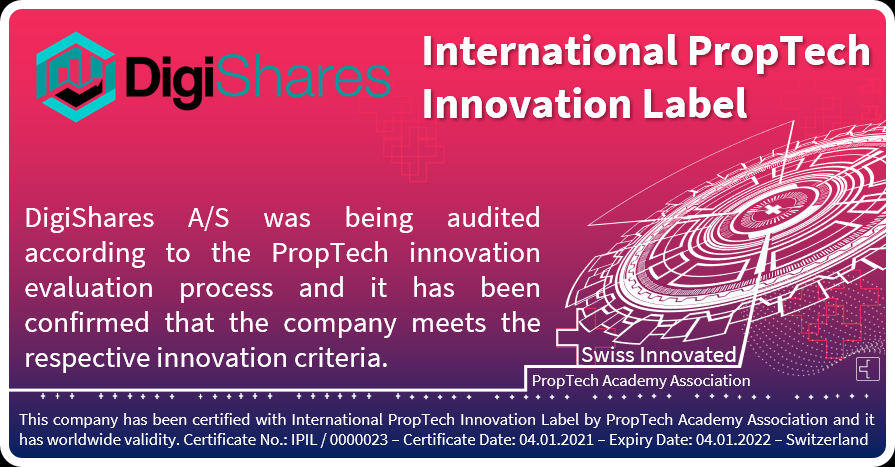 DigiShares Among Top 5 Winners at The X Competition
On the road to 2 Million Dollars in Funding, started with 100+ Blockchain Startups to The X Competition powered by by X Ventures and AgoraGroup in connection with the Global Blockchain Congress. DigiShares is proud to be in top 5 winners, along with Krowdz, Empower, MetaGameHub DAO and Bam Ticketing.
DigiShares At Blockchain Expo North America May 11-12, 2022
DigiShares is thrilled to be a sponsor of Blockchain Expo North America 2022. Our CEO, Claus Skaaning, will also be there to speak on The New Kid on the Block: Tokenized Real Estate @ 12 PM PDT.
– How does the tokenisation of real estate bring value to developers?
– Current ways it is being practiced – in Europe and further afield
– What are the barriers to adoption?
Don't miss the opportunity to explore this innovative technology and its impact on a range of industries including; manufacturing, transport, supply chain, government, financial services, energy, insurance, healthcare, retail and more!
Also with exclusive networking opportunities, the Blockchain Expo is a must for anyone in this exciting technology space.
PODCAST BY Real Estate Radio TV: Real Estate Tokenization with DigiShares
In this episode, Gabriel Sadoun, Head of US Development at DigiShares, talks the concept real estate tokenization which has for main goal to bring liquidity into an illiquid sector.
The real estate sector as whole is known to be an illiquid asset class where investors are often "stuck" with their investments for many years, real estate tokenization is looking at changing that through the use of blockchain and smart contracts where investors can trade their securities through exchanges.
They also discuss his thoughts on the future of tokenization and DeFi finance as a whole.
DigiShares selected as Vendor of the Month in STA Recap
Security Token Advisors' Founder and CEO, Herwig Konings, has recently made his appearance in one of DigiShares' monthly Webinar "Real Estate Tokenization End-to-End Consultancy". You can now rewatch the webinar with the link below.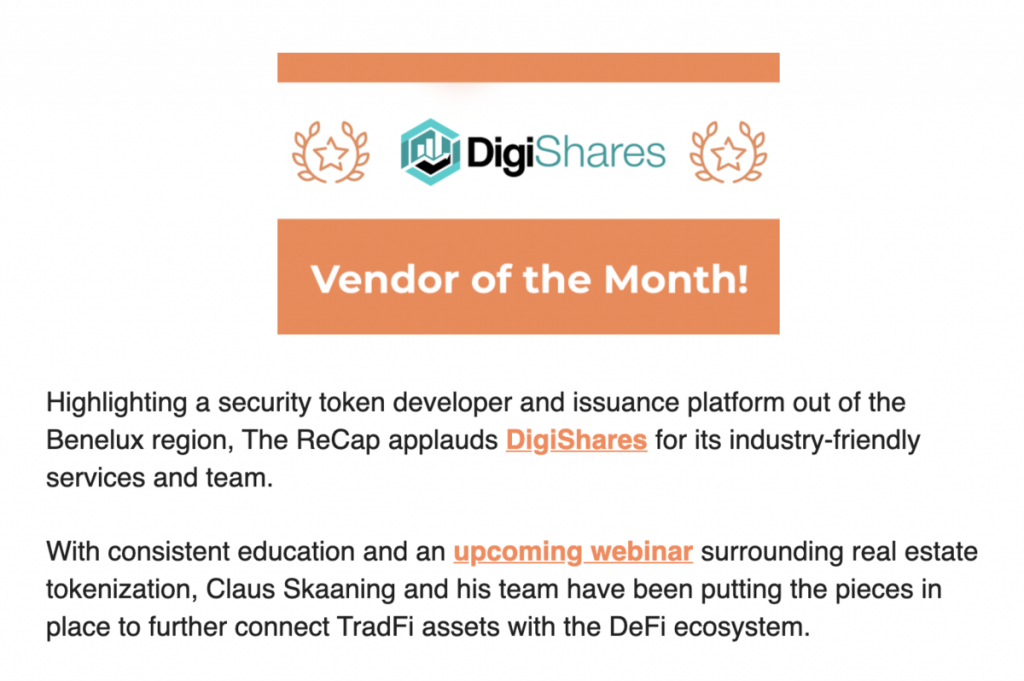 Webinar Recording: Real Estate Tokenization End-to-End Consultancy
Thank you so much for a successful webinar!
Even if you didn't attend, we wanted to send you the webinar recording! See you in our next webinar: Real Estate Tokenization, Liquidity and Secondary Markets on March 16, 2022.
UPCOMING EVENTS