Blockchain Bit Podcast: Real Estate Tokenization – What Is Happening Now!
Listen to the podcast episode where DigiShares' CEO, Claus Skaaning, joined Ana Paula Picasso – Blockchain Bit Podcast Hose, and Josh Emison, CEO of Sans Bank to talk about the various aspects of Real Estate Tokenization. In this episode, they have discussed how Real Estate Tokenization has become a new hot opportunity for investors, how regulation affects adoption, and an overview of what is happening in the US, EU, and beyond.
This is also the first part of the Real Estate Tokenization series – listen to it now on Blockchain Bits Podcast here.
Interview with Polymesh: How this EDF Recipient will use Polymesh to Tokenize
DigiShares recently received a grant from Polymesh to support the Polymesh chain with our tokenization platform.
What does the first Polymesh EDF Recipent have to say about their experience with the Polymesh blockchain? Listen now to an interview between Polymesh and DigiShares' CEO, Claus Skaaning, to find out!
Asia Proptech Replay: Real Estate Tokenization 2.0
Listen to DigiShares' CEO, Claus Skaaning, as he talked about Real Estate Tokenization 2.0 with Paul Chen, Co-Founder of Asia PropTech (moderator),  Alex Pham, CEO and Co-Founder of RealBox and Yael Tamar, CEO and Co-Founder of SolidBlock at Asia Proptech 2022 back in September! The panel provides a high-level overview of the state of real estate tokenization and also explores a brief history of real estate tokenization and highlights some of the challenges and opportunities.
Meet DigiShares at REact2022
DigiShares is excited to share that our Business Developer – Gabriel Sadoun – will be participating in the panel "Technology and the Real Estate Industry" at REact2022 Real Estate Conference this November 04, 2022, at Graham Center – FIU Main Campus.
The panel will explore the following topics: How are blockchain, securitization, tokenization, the metaverse, and other technology trends revolutionizing the real estate, hospitality, and property sectors? Hear from panel experts on how rapidly evolving technologies are affecting the entire real estate life cycle; from how properties are conceived, designed, developed; financed; managed and operated; and bought and sold.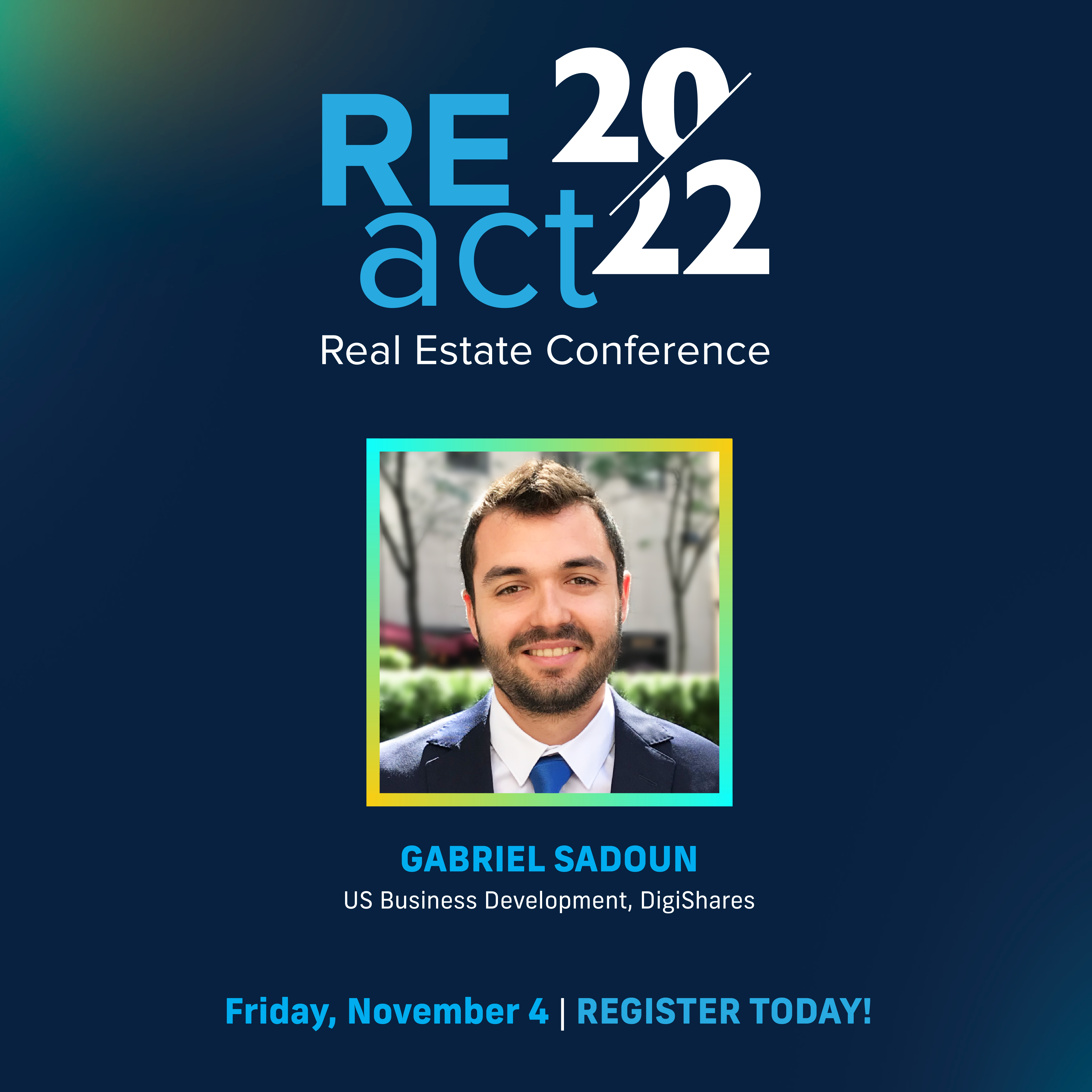 Article: Google selects Coinbase to take cloud payments with cryptocurrencies and will use its custody tool
Key Points:
Google will start allowing a subset of customers to pay for cloud services with digital currencies early next year.
In addition, Google said it would explore using Coinbase Prime, a service for storing and trading cryptocurrencies.
Coinbase will move some of its applications to Google's cloud from Amazon Web Services.
Webinar Recording: Tokenization of Debt
Thank you so much for a successful webinar!
Even if you didn't attend, we wanted to send you the webinar recording! Feel free to share it with your friends and colleagues.
UPCOMING EVENTS